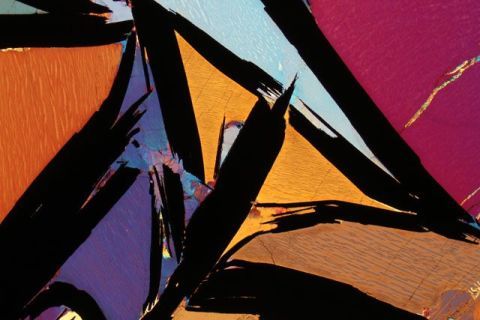 MIX:
RQ Mix 012 - Basic House -- Opal Tapes
I stumbled upon
Opal Tapes
online and my interest was immediately piqued when I saw that three of my favourite recent artists from the murky borders between electronic dance music and its more spectral, contemplative sides looked like they were involved. The label is a brand new imprint run by Stephen Bishop from his home in Teesside and its first batch of three tapes come from Tuff Sherm & PMM (the housier alias of Sydney beatmaker
Dro Carey
), Personable (an alias of LA Sun Araw affiliate
M. Geddes Gengras
), and
Huerco S
.
Aligned with the building resurgence of interest in more exploratory and less EQ'ed modes of electronic dance music-- perhaps most recently and notably exemplified by the
100% Silk
label, whose embrace of all things analogue has also lead them to producing tapes-- the aesthetic of Opal Tapes is situated at the point where dance beats sputter out and succumb to the tape hiss and ambience of their surrounds. From Tuff Sherm & PMM's warm but ultra-barebones 4/4, through Personable's modular synth explorations, and finally to
Huerco S.
's absorbing, ambient take on deep house, each release charts a distinct, but equally compelling path through contemporary electronic music, in which borders are hazier than ever...
I had a chat to Stephen-- who also produces under the name Basic House-- about the impetus for starting the label, and to talk more about the dancefloor/home listening divide and where cassette tapes fit into that. He was also kind enough to put together a mixtape that showcases both some forthcoming Opal Tapes material, as well as surveying some of the influences of the label and his own production. Additionally, listen to the samples of the tapes that were put up on the Opal Tapes
soundcloud
:
The first batch began shipping last week and I would get on top of this
quick
if you want to purchase them. All but the Personable tape have sold out at
boomkat
, so your best bet would be to go straight to the source at the Opal Tapes
site
.
Click below for the interview and tracklist.
What prompted you to start the label and what's it all about? You don't see too much dance or even electronica being released on tape, how do you think tapes work as a medium for dance music? I guess a lot of what you put out skirts the line between dance and something else....
I began the label in many ways as a little experiment into how feasible it would be to produce and release dance music on tape again. I have fond memories of listening to like
Dance Zone '94
or
Club Hits '96
when I was much younger. I'd buy these compilations on tape from WHSmiths or Woolworths and listen to them until they broke. At that time tape was a legitimate medium for dance music and people would listen to an album or mix in its entirety because of the nature of tape playing. Most preciously I remember how the Leviticus track
"Burial"
on this one compilation I had would just warp and flutter everywhere cos I'd played that one song so much.
As I grew older I began to buy cassettes again but more often than not from the fringes of noise and drone music. There was an economical reason for much of this music being released on tape, but I think again that the way the individual interacts with a tape is so much more engaging and realistic than digital files or even CD's. Folk from fringe music always seem to celebrate the medium as much as the music sometimes.
I guess Opal is the convergence of these two mindsets. The retroactive tape collector scene of noise/drone and the relevance and worth of tapes as a format for electronic music. So many people pride all deviations of electronic music on ultra-crisp high-fidelity sonics, but I think it's equally important that a sense of
artifact
and something physical to engage with is represented in the music.
As far as skirting the line with Opal's output, I think that's just representative of contemporary music. The auspices of the night club aren't so relevant anymore to many. There are producers making bedroom beats for bedroom listening and that's just fine.
Where do you run the label from? Are you inspired by the music going on around you and of friends, or is more of a global, net-based venture?
I run the label from my home in Teesside. Its problems have been well publicised in the last decade but it's my home. Geographically it's so diverse, like I have the ability to walk twenty minutes in one direction and be on a deserted beach, twenty in the other and be up in the woods, or twenty in the other and be on the doorstep of one of densest industrial sites in the country. There isn't much of a scene for experimentation with music here but there is some good music and some great people.
Opal has come about both through a DIY approach but also through social networking, forum posting, e-mailing, pestering and poking. Fundamentally I want the music the Opal releases to be good music. I don't want to prop any particular place up, I'm just looking for the best music I can find and warm hearts who are willing to share their music at this small level.
Tell me a bit about the mix you put together for us. It's got quite a dark, not particularly beat-driven vibe, is that a sign of things to come from Opal Tapes?
The mix is just where my head is now. I have a certain apathy to dance mixes in general and would rather hear something new or challenging than just a perfectly harmonic beat perfect mix. I guess the MO for Opal Tapes is how electronic music idioms can be warped and broken down... and melted together. I do like narrative mixing but I also like reading stories that decide to be something else halfway through. Why can't this jarring approach be brought into mixes? When I first started to DJ I would also be listening to Dennis Smalley and Francis Dhomont and thinking how amazing it would be for these small trills and explosive transitions in their music to be alongside 4/4 and EQ mixing.
What is in store for the future of Opal Tapes? Can you tell our readers anything about the next batch?
I can let you know that the next batch of tapes will feature a split release between Best Available Technology and OND TON, probing an arid landscape of techno deconstructions, and an album from 1991 who is balancing nausea and rose-tinted everythings in perfect place. Think of an opiated Klaus Schultze.
There are some larger things in the pipeline too but one thing at a time.
Basic House - Anonymous Toilet Stall Acid
Crawl Unit - Wake Up You're Alone
1991 - Distortion of Time
IMG_6502 - Forest Is Dead Bass
Jahilyya Fields - Water Breaker
Abel - Girls (Huerco S. Remix)
Best Available Technology - Twisted Ladder
Basic House - Teenage Dog