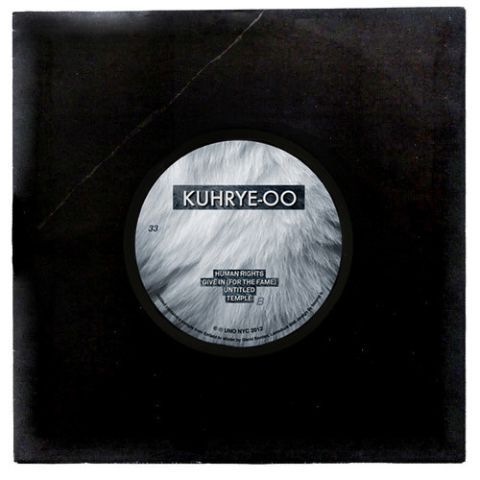 This year my music listening habits fragmented even further; listening to most things online first, often at work, is a great way of forgetting about some really great stuff, and it was quite a task reconstructing and recollecting my year's disparate listening through old blog posts and soundcloud faves. Albums were drastically less important to me this year than previously, although there were many excellent full-lengths and EPs released this year. I don't especially want to enter into deep reflections on the year in music, but a few things/trends really stood out. There have been some truly excellent high-concept albums that seem to be looking for ways of resisting the interfaces of contemporary networked capitalism, and which find answers in a re-articulation of our (post-human?) bodies, in particular the Laurel Halo, d'Eon and Jam City ones. I'm a huge partisan in favour of everything James Ferraro has done this year, including
Sushi
, which while not as bracing as
Far Side Virtual
was when it came out last year, has really consolidated his position as an aesthetic-leader within the contemporary underground and as a result has proved to be more subtly divisive. And finally, I'm so happy that so many producers are doing breakbeats again, and I've been drowning myself in old Hardcore and Jungle mixes this year trying to catch up on received wisdom.
Huge s/o to the hottest labels of 2012 for releasing so much good stuff and being such pivotal sources of orientation in an often confusing, badly-curated sea of content:
UNO NYC
,
Hippos In Tanks
,
Software
,
AM Discs
, and
L.I.E.S.
, you have all killed it.
1. Kuhrye-oo - Give In (For The Fame)
from
Kuhrye-oo EP
[
UNO NYC
]
A skittering and mournful 2-step beat provides the anchor for a song that is probably the closest distillation of what I was after musically in 2012. A stunning tribute to and re-evaluation of club music's past, from easily one the best labels of the year.
2. Autre Ne Veut - Counting
from
Anxiety
(forthcoming) [
Software
]
There's nothing like a new track from one of your favourite artists of 2010 to remind you how much things have changed in two short years, but Autre Ne Veut has updated his sound just enough to take it to the next level, with tighter production giving the track an r&b grandeur his older, lo-er-fi records could only aspire to, and featuring a guest verse from 2012 it-boy Mykki Blanco.
3. Triad God - I Never Told You
from
NXB
[
Hippos In Tanks
]
Just a really beautiful track built around a slow, housey piano loop and Cantonese-speaking Triad God's beguiling singing/rapping.
4. Physical Therapy - Drone On
from
Safety Net EP
[Hippos In Tanks]
Physical Therapy's steady stream of mixes have been carving an oblique path at the vanguard of NYC's club culture for a little over a year now, and his first release of original productions was kind of a revelation. Highlight "Drone On" is one of the more ecstatic examples of a heavy jungle/breakbeat influence that is certainly a notable-2k12-trend.
5. Le1f - Go In
from
Dark York
[
mixtape
]
Dark York
is a deep, complex and at times, uh, dark listen; what I love about "Go In" is those chiming arpeggios that run in the background, and the way at certain points in the track it syncs up with the subtly rapid-fire snares to create this lighter-than-air feeling. Le1f's flow is amazing too, this guy is so talented.
6. Girl Unit - Ensemble
from
Club Rez EP
[
Night Slugs
]
Squeaky, crystalline production not unlike label-mate Jam City (whose
Classical Curves
, incidentally, is my album of the year), "Ensemble" is impossibly uplifting.
7. Bwana - Baby Let Me Finish
from
Baby Let Me Finish EP
[
somethinksounds
]
A completely addictive footwork-indebted slice of UK Bass; the vocal sample is a total earwormer.
8. Slava - File
from
Soft Control EP
[Software]
The footwork influence was pretty pervasive this year (not to mention some terrific, career-defining full-lengths from Chicago veterans Traxman and DJ Rashad), but no-one had such an elegant, high-fashion take on it as Slava did with "File".
9. Waka Flocka Flame - Bill Russell (Ryan Hemsworth's 情報デスクVIRTUAL Mix)
from
Collected
[
mixtape
]
An already pretty blissed-out song is made in even more so; I've lost count of the number of times this on repeat was the soundtrack to me zoning out at my desk mid-afternoon, forgetting to do any work.
10. Inc. - 5 Days
from
No World
(forthcoming) [4AD]
Impossibly slick, their full-length is much anticipated round these parts.
Other favs:
Huerco S. - No Jack
Jeremih - Late Nights
Bookworms - African Rhythms
Key Nyata - Bring Me The $$
Lol Boys - Changes
Arca - Manners
Wundercastle vs How To Dress Well - & It Was U
Dean Blunt - Track 2 feat. Inga Copeland (Narcissist II)
Image Circle - Pinkfox
Window - Stasis
Fatima Al Qadiri - Ghost Raid
Ultrademon + DJ Kiff - Yr So Wet 3.0
House of Ladosha - Bel Ami ft. C-Breezy