It's the end of the year and to wish you farewell (for a few weeks vacation, at least) is an assortment of our favourite Australian and New Zealand bands' favourite things this year. Some of their lists are in order, some in not so much order. Either way, I hope you find them interesting; I always enjoy finding out (and taking recomendations from) what the people who make the stuff I've been listening have been listening to.
It might sound like a familiar story: three very like-minded people met at university after somehow avoiding eachother in their home town of Canberra, form band, play gigs, make a name for themselves, get included in Bang Gang DJ Mixes, play alongside Midnight Juggernauts. Actually, maybe not that familiar, but that's Soft Tiger's tale. After a couple of years of live shows and recording an album, they now straddle a strange and different place in Sydney's music scene, between the trendy and the DIY. 2007 saw the release of
Gospel Ambitions
, a record that is half Pavement and half party, mostly falling apart but held together with a sense of fun and uniqueness.
Top Ten Albums (List by Bucky)


James Blackshaw -
The Cloud Of Unknowing

"My girlfriend had a baby in July and this has been the soundtrack to some (thankfully) serene times as a new family."

The Field -
From Here We Go Sublime


"I wish that I could go to a club and hear stuff like this instead of incessant distorted bass and chopped up beats."

Vampire Weekend -
Blue CD-R

"Maybe I was late on this one... next year's "United" (Phoenix)???"

Panda Bear -
Person Pitch

"Did this come out this year? I dunno, but I still listen to it religiously."

Custard -
Wahooti Fandango/Wisenheimer double CD

"I bought this from revolution CD a few weeks ago after hunting for it for ages. surely one of the best Australian bands of the 90's."

Shocking Pinks -
Shocking Pinks

"The Cure post-punk revival has not all been in vain."

Sleeping States - There The Open Spaces
"I didn't think I'd get back into another sleepy singer-songwriter type for a while but this guy's an exception to the rule."

Julianna Barwick - Live
"I'm getting into loop pedals. This is some of the best I've heard."

Von Sudenfed - Flooded
"Mouse On Mars and Mark E Smith - I really want to get some more DJ gigs just so I can play this."

Prinzhorn Dance School
"At first it was really funny, and then it was awesome, and now it's both. and more."
ALWAYS
I like Always (Sydney/Melbourne's Alex Vivian) because of his penchant for the unusually percussive but mostly because people say things like "I feel like he's playing a practical joke on me" because he probably is, at least a little bit, but for me it's because he now crafts one of the most interesting sounds with just his voice and a couple of pedals.
Top Ten Things (List by Alex Vivian)


1. Judy experience -
Judy Is Rising

2. Downloaded Edith Massey Bootlegs via internet
3. Dumpstered Hole bootleg. Selected live shows 1992-1994. Kind of warped, but sounds incredible
4. Ian Carnegie,
Medieval Conquest

5. Burning Star Core "Lets play voice like violins do" track from Ecstatic Peace's
Less Self is More Self
- a benefit compilation for tarantula hill.
6. Theme song to
Jawbreaker
, the porno, not the mid nineties film with Rose Mcgowan and Marilyn Manson
7. Babes always remix myspace.com/megababedanceparty
8. Circle pit 3 song CDR
9. Kim Gordon -
Chronicles Vol 2
(Artwork by Kim gordon) Nieves
10. Smegma -
Pigs for Lepers
purchased ameoba LA

FRANCIS PLAGNE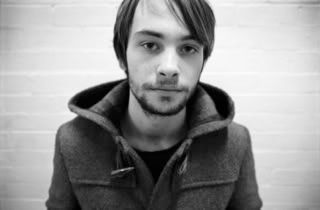 It's been a pretty good year for Melbourne's Francis Plagne, I reckon; his second album, a self-titled one, was released to great acclaim. Mixing musique concrete and pop and, well, jsut everything, it's one of my favourites from this year. There are claustrophobic spaces, and wide-open vistas conjured through the use of field recordings. Francis Plagne is like looking out the window of a bus as the scenery unfolds. It's easy to attach metaphors to his sprawling work, but it's bewildering to discern exactly where Francis is coming from, probably because he's coming from everywhere at once. You could say it's a schizophrenic musical identity, but I'd say it's really just glee and enthusiasm that drive it all.
Top Seven Albums (List by Francis Plagne)


3/4hadbeeneliminated -
Theology
and
The Religious Experience
Sibylle Baier -
Colour Green

Will Gutherie -
Body and limbs still look to light

Animal Collective -
Strawberry Jam

Haswell and Hecker -
Blackest Ever Black
Robert Wyatt -
Comicopera

Anthony Pateras -
Chasms
INSTITUT POLAIRE



I've never been to Perth but a friend of mine told me it's as 'boring as bat-shit'. He's probably right, so without much to do I can see how this eight-piece would make such terrific pop. It's *NICE* and twee, just how I like it, with enough sadder moments and tonal dynamics to keep things interesting. Maybe it's because of the hodge-podge of personalities within the band.





Top Ten Albums (List by Sam)



10. Iron & Wine -

Shepherd's Dog


9. Winterpills -

The Light Divides


8. Battles -

Mirrored


7. Deerhoof -

Friend Opportunity


6. Pela -

Anytown Graffiti


5. Leap Year -

With A Little Push A Pattern Appears


4. The Panics -

Cruel Guards


3. Band Of Horses -

Cease To Begin


2. Blanche -

Little Amber Bottles


1. The Arcade Fire -

Neon Bible




SHIVER LIKE TIMBER


There are quite a few things I could could write about Shiver Like Timber (solo project of Brisbane's Betony Dircks) but instead I'll quote UV Magazine (and second it): "Shiver Like Timber is the adorned vintage dressed hanging in Brisbane singer/songwriter/artist/designer Betony Dircks' wardrobe. It has mismatched buttons and a small red win stain but you wouldn' have noticed it if she didn't point it out; besides, it kinda adds to the charm. The dress has intricate stitches and strange prints that change as lights dance around her on a modest stage. Her music is just like her and her dress - polite yet ridiculously talented and interestingly beautiful.".
Top Eleven Albums (Notepad by Betony Dircks)
THE CRAYON FIELDS/SLY HATS
The Crayon Fields are a band in which Melbourne musician Geoff O'Connor plays, but Sly Hats (his other project) is purely his, even if there are numerous guests on his debut Liquorice Nights. It's certainly always his ideas. They culminate in the form of sweetly spooky calypso and quaint, dawdling indie pop ballads. It's happy to just float there, percussion cluttering the spaces, bustling about like people.
Top Nine Albums (List by Geoff O'Connor)
Kes -
Grey Goose Wing
Panda Bear -
Person Pitch
Caribou -
Andorra
New Buffalo -
Somewhere Anywhere
Jens Lekman -
Night Falls Over Kortedala
Frida Hyvonen -
PUDEL
Deerhunter -
Cryptogram
s
Devastations -
Yes U
Pikelet -
Pikelet
GREEDY HEN (ART COLLECTIVE)
Greedy Hen are my favourite artists that make art about music. That's not all they do, they make art about everything, of course, with the best sort of whimsy (the sort with a sense of humour). They hide amidst mountains and castles and foxes.
Favourite things (List by Katherine and Kate)
1. Panda Bear's drool on chin album
Person Pitch
is our most favourite record cover.
We're completely smitten, it's the best of 2007, it's total fantasy jams.
2. Bill Callahan (Smog) gig at The Factory.
The man is a genius, so when we were given the opportunity to make his tour poster this year our faces almost flipped inside out due to the proportion of smile to face ratio. his gig was pretty awesome also, especially when he played 'Say Valley Maker' causing Katherine to melt into a puddle of happiness.
3. The best artwork of 2007 according to Greedy Hen is
Maya Hayuk "Just Good Vibes"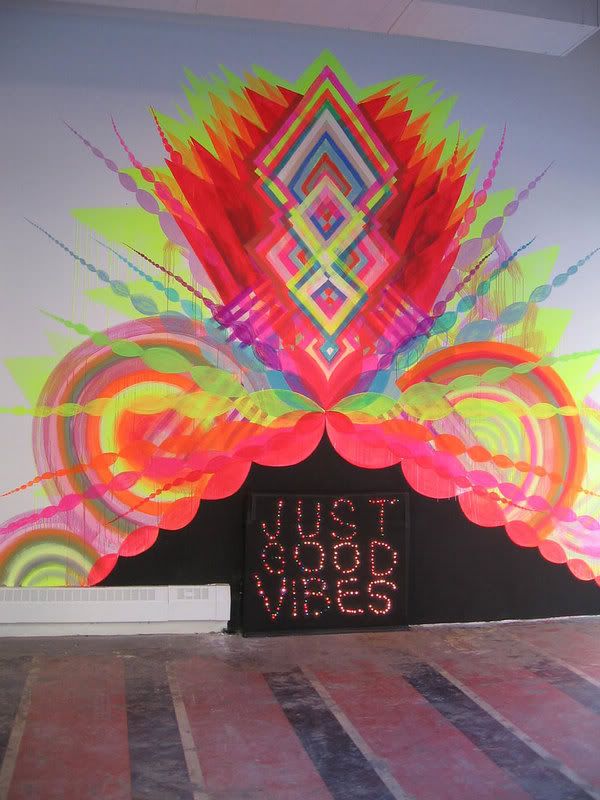 Mitch Blunt "This Person's Imagination"
Both of these nuggets of gold are a reference point for our lives.
4. Fionn Regan gig at The Basement.
His songs have such a strong lyrical narrative it was like listening to someone sing you stories, and in between tunes his stage banter was in the form of story telling also.
our fantasy Fionn Regan gig would be late at night in a library.
5. Modified Power Tool Racing at Chalk Horse Gallery.
the Art show event of the year was the pure power and golden glory of MODIFIED POWER TOOL RACING!!
The premise of the day was for each Artist to modify any electrical power tool, ie pimp your power tool ready for racing.
Two race tracks were built inside Art Gallery, 'Chalk Horse'. Entrants were pitted against each other, the winner making it to the next round. The race lasted about five hours and was one of the most exhilarating events on the social calendar, with the gallery packed out with people drinking beer and cheering on the racers.
The Greedy Hen entry was a
modified
circular saw named 'Saw Cat'. We attached skateboard wheels, a tail, and a fast colour scheme of swirling purple and yellow flames.
It was such a powerful day, we didn't win the glory of being champion, but we were slow and steady all the way and what more could we have ever dreamed of ...yesss!
6. M.I.A gig at The Forum
Serious jungle fever, holy mackerel! Kate's legs moved so crazy it was like spaghetti.
7. The Panics gig at The Annandale.
This year we made an epic 6metre by 3metre Artwork to be featured in a music video for humbly prolific melbourne band The Panics.
The film clip was a total sight for sore eyes, an 80 piece paper forest puzzle, complete with creepy little animals and bones. You can have a gander at it here:
www.youtube.com/watch?v=t_cK_cIydHY
The combination of shining rubies in their back catalogue of music and their new album sounding like a road trip through the desert, meant The Panics gig at The Annandale left everyone completely gob smacked.
8. David Shrigley's
'Worried Noodles
. Best Idea ever!
Greedy Hen has a whole lot of love hearts for David Shrigley, he makes us all gooey on the inside.
9. Laneway Festival.
In the shade of a tree, nestled between the buildings, being serenaded by Yo La Tengo, Peter Bjorn and John, and The Walkmen. enough said.
10. Being alive at the end of 2007.
We feel like this year Greedy Hen has been rolling a rock up and down a mountain like Sisyphus. ...we're starting to notice we're actually rather in love with the rock.
The Ruby Suns put out one of my favourite pop albums ever last year (although it kind of came out at hte start of this year here in Australia). It's one of the biggest 'growers' I can think of. The only place I've really heard it is at work (I left the CD there one day and my coworker implored me to never take it back) but I listen to it at least once a day, especially in the late afternoon when the sun shines through the window and shimmers along with their pop.
Top Seven Albums (List by Ryan Mcphun)
M.I.A. -
Kala

Panda Bear -
Person Pitch
Of Montreal -
Hissing Fauna, Are You The Destroyer
Animal Collective -
Strawberry Jam
Pikelet -
Pikelet

Timbaland -
Shock Value

Caribou -
Andorra

PUMICE
Pumice, from Northland, New Zealand, is one of those New Zealand bands that not that many people in the country know, but who people in other countries know very well as one of the bestest lo-fi things around, making rock or pop that's so far buried under rubble or pop that's being buried in the process of a song. Raw and rocking (in a fun manner), his album Pebbles was one of my favourite New Zealand albums this year.
Top Ten Albums (List by Stefan Geoffrey Neville)

CJA & Smokehouse - Whiskey and Freedom
Napalm Death -
Smear Campaign
Kraus - The Facts
The Deadnotes -
The Deadnotes
Giant Skyflower Band - Blood of the Sunworm
Sword Heaven -
Entrance
The Futurians - Zenit
Witcyst -
Made With Mold Stench On All, FACE
Devoid Of All Mercy - Your Children Left With The Stranger
Claypipe/Pekko Kappi/Blithe Sons -
The Amazed Map


I first saw Wellington's The Phoenix Foundation on television in New Zealand on one of those 'cultural' bits on the news, a segment which they seem pretty at home on given their bongo drums and their amazing knack for making soaring pop. A particularly clever press release or review or something once wrote that they're between Pavement and Pink Floyd in the musical alphabet and that's not too far off (sort of) but one of their members, Luke Buda, put it best when he said he thought they sound like 'a horse...flying; but like a horse flying through....SPACE!'.
Top Ten Albums, Films, TV Shows and Australian politicians. (List by Samuel Flynn Scott)
1. Panda Bear -
Person Pitch
This album entered my brain like a viral fungus. Its distorts reality, causes hallucinations and nausea and eventual blissed out trippy dozing.
2. Florian Henckel von Donnersmarck (dir) -
The Lives Of Others
This film actually came out in 2006 but I saw it this year and loved it. Eeeek its grim, but balanced with romantic sincerity.
3. The Mint Chicks -
Crazy Yes, Dumb No!
This is one of my favourite albums of the year, not just because of its shimmering Buzzcocks style pop gems but also for its canny burrowing into the NZ mainstream.
4. Cornelius -
Sensuous
Cornelius makes normal things sound very weird and horribly uncomfortable things sound funky and fresh. He is a genius.
5. The Far Now -
David Kilgour
The lord of New Zealand alternative music DK delivers yet another superb album. And the rumour is that him and his old band The Clean are recording in NYC at the moment with Yo La Tengo. Gibblies.
6. The Good the Band and the Queen -
The Good the Band and the Queen
Quite possibly the best thing Damon Albarn has done. The combo of Tony Allen, Paul Simonon and Dangermouse certainly helped.
7.
Kevin Rudd
- Labor Prime Minister
He may be a dick, he may be a dude. In NZ we don't know and don't care. He isn't John Howard and therefore he is God.

8. Radiohead - In Rainbows
Oh joy, a Radiohead album that sounds like Radiohead.

9. Various - The Best Of Ethiopiques
Its so good its makes me mad.

10. Entourage - HBO TV Series
I only discovered this show recently and watched 30 episodes in about a week. Its such fantastic trash. Boobs, drugs and hip hop. Grouse!
Joel Saunders is a band and a guy, his band sometimes features a dance troupe of either hot girls or a novelty comedy act of two nerdy guys called Illage. I like where he's coming from, covering the good sort of top40 pop like Rhianna or Nelly Furtado at shows at warehouse spaces underneath sex shops in Brisbane (where he's from) or just at the regular old pubs. He and his squad are supporting Girl Talk in the new year and furthermore on the 'girl' front, he's just put out an EP called Girly Music.
Top Ten Musical Moments of 2007 (List by Joel Saunders)
"2007 was the year to dance. Then again, most years are good years to Dance. Last week was the much anticipated final disco for the year at the school I teach at. To celebrate, the year 7s have a half hour at the end, exclusive use of the dance floor. I broke out to Nirvana's Smells Like Teen Spirits, and left those air-guitar-ing 12yr old boys and hair flicking girls for dead. We [the teachers] also owned when it came to the chicken dance.
I also DJ'd twice this year. Both were wonderful experiences. The first time was at a small high school dance bash. I managed to cut between Rock around the Clock, The Macarina, Love Will Tear Us Apart and New York City Cops relatively smoothly. The second was at my birthday."
1. Aleks and The Ramps - synchronized dance piece at the troubadour
"Aleks and The Ramps are strong contesters for my favourite Australian band. They take risks and play brilliant banjo lead, avant-pop. Aleks' voice jumps from a rich baritone to a Danielson-esque falsetto in a single move. After their [first] Rics show earlier in the year, Joe [aka Extreme Wheeze aka noise/tambourine trouble maker] gave me the most glorious of bear hugs. At The Troubadour Aleks and Extreme Wheeze ran through the troubadour and up and down the valley mall during an instrumental, and then, in their iPod backed dance routine section, pulled me on to the 'stage' and made me dance with them. My favourite bit was when Janita tackled me to the floor for the section where everyone rolls on the floor."
2. Cyndi Lauper Vs Dizze Rascal -
Girls Just Wanna Fix Up
"Everytime I DJ this song is a definite winner. I heard it on the radio first, and it is by far my favourite mashup. I'm not really familiar with the Dizzee track, but the beat really works with Cyndi."
3. Deerhoof -
Kidz Are So Small
"Deerhoof's second Brisbane show was dance crazy for me. At The Zoo, it started with The Rational Academy's laptop + voice + dance moves track '2004' and was helped along with a generous dose of clinical drumming and shards of guitar noise from My Disco. I couldn't help myself by the time Deerhoof played Kidz Are So Small as their encore. I can't wait till Satomi releases a solo Hip-Hop record [produced by the Food For Animal kids or something]."
4. M.I.A. -
Paper Planes
"It would be hard to list best dance songs and not include M.I.A. Instead of going to Parklife to see M.I.A. I DJ'd at my party. I probably played this tune. Crossover artist of 2008."
5. Justice –
D.A.N.C.E
.
"Video hits told me this song is just some Burroughs style text cut-up of Michael Jackson lyrics. It makes sense then that you'd want to dance to it."
6. Dan Deacon -
The Crystal Cat
7. Animal Collective -
Chores
8. Mae Shi Vs Yea Big & Kid Static -
Run To The Facts
9. Sage Francis feat. Jolie Holland –
Got Up This Morning
10. Rihanna feat. Jay-Z –
Umbrella
[or the mashup with M83+Menomena]
Honourable mentions:
It is worth noting that this year Low [probably my favourite band] came closest they ever will to dance music with Breaker, and also, had I had the opportunity to see The Dirty Projectors live, I'm sure they would be on my list. Award for the most wonderfully deconstructed hip-hop goes to Asthmatic Kitty's Future Rapper [aka Slo-Ro of Soul-Junk] whose cut-up, sample heavy glitches takes forever to decode and longer to choreograph dance moves for.
I've never met Tim Sheil (the Melbourne man who is Faux Pas) but I've figured out the following things via the digital world: his favourite Beatle is Paul, he sometimes goes out to a hut in the wilderness to record, he makes really good electronic music, he wants to know more about Augustus Pablo. I'm not sure how true all of that is but it's probably close enough. His new EP Changes is really great.
Top Ten Overseas Releases (List by Tim Shiel)
1. Black Moth Super Rainbow -
Dandelion Gum
2. The Field -
From Here We Go Sublime
3. Bachelorette -
Isolation Loops
4. Oh Astro -
Champions of Wonder
5. Skeletons & The Kings Of All Cities -
Lucas
6. James Blackshaw -
The Cloud Of Unknowing
7. Yeasayer -
All Hour Cymbals
8. Disasteradio -
Visions
9. Antibalas -
Security
10. Paper -
As As
Top Ten Australian Releases, Alphabetically
Aleks and the Ramps -
Pisces Vs Aquarius
Always -
F.I.S.T.

Architecture In Helsinki -
Places Like This
Brothersister (Various Artists) -
Fifty Gallon Drum Compilation
Cleptoclectics -
Poignancy Beats Vol 2
Machine Translations -
Seven Seven
Nick Huggins -
Shipwreck
Pikelet -
Pikelet

Pretty Boy Crossover -
A Different Handwriting
Roam The Hello Clouds -
Near Misses

From Brisbane, BIGSTRONGBRUTE is a solo project of Paul Donoughue, who originally just played in the perennially underachieving indie-punk band Tragic/Athletic. The project began in early 2006 under the moniker Alligator Pussy, on a summer whim, as a means to write short, sharp and particularly catchy electro-punk songs. Just released is Gardens In The Gutter, a debut full length. He played at my house the other day with a few friends and played a cover of Animal Collective's 'Fireworks' and I quite liked that.
Top Five Albums (List by Paul Donoughue)
1. Animal Collective - Strawberry Jam
"Without doubt the best of the year for me. One of the most interesting and intriguing pop bands around."


2. LCD Soundsystem - Sound Of Silver
"Excellent songs and sweet long electro jams."


3. M.I.A - Kala
"Sweet beats, interesting samples, only a few dodgy songs and a stupid Pixies cover."


4. Batrider - Tara
"Best Australian release of 2007 for me, brutal but catchy."

5. Radiohead - In Rainbows
"Just really good songs. Not the most inspiring Radiohead album, but it's still Radiohead."

Notable mentions:

Soft Tigers -
Gospel Ambition

Panda Bear -
Person Pitch

Timbaland -
Shock Value
YES! NUKES!
Yes! Nukes! are a noisy punk band from Sydney who are most often seen at things like the now unfortnunatly defunct Chooch-a-bahn (music collective) who emphasise the DIY in the city, playing warehouse spaces over pubs but still chundering out raw punk riffs like the life of the party.
Top Five Albums (List by Keiran Anthony Day)


1. The Chinese Stars -
Listen to Your Left Brain

2. Deerhoof -
Friend Opportunity
(although it's not as good as
Runners Four
in my mind)
3. Yeah Yeah Yeahs -
Show Your Bones
(2006 release, but whatever)
4.
Can't Stop It: Australian Post Punk 1979-1984
(amazing compilation)
5. Battles -
Mirrored
Moonmilk is Lia (Bubble) and Kell (Squeak). Moonmilk is a constant struggle to discover the gradient midpoint between Bubble and Squeak. They've released several recordings on labels such as DNT Records, Spanish Magic, Soviet Records, Diagnosis Don't and have been fortunate enough to play with some of their favourite local and international musicians. This year saw the birth of the 'Tuff Puffin' label run by Moonmilk.
Top Ten Albums (List by Lia and Kel)


1. The Garbage and the flowers -
Coronation

2. Sly Hats -
Liquorice Night

3. Naked On The Vauge -
The Blood Pressure Sessions

4. Always -
F.I.S.T

5. Castings -
Punk Rock is Bunk Squawk

6. Onani/Heil Spirits -
Omniprescence/Ancient Skull

7. Painted Jesus Brown -
Burning Nature

8. Mshing -
Born Deth

9. Red Red Krovvy/Axel Rosie O'Donnell -
Split

10. Quetzolcoatl -
Living
PINE
Pine come from my hometown, Christchurch, in New Zealand. I saw them a lot of times there, with sets featuring the sweetest pop moment's you'll find, light and easy.
Top Five Songs (List by Stephen Mcarthy)


Minisnap - Leave It To You
The Undercurrents - Flood Song
Alec Bathgate - We're All Babies
David Kilgour - Today Is Going To Be Mine
The Bads - Feels Like Rain
MINISNAP
Another Christchurch band, Minisnap would potentially not like me for saying that 'they're pretty much The Bats' but I just mean they are in their line up (it's The Bats minus Robert Scott). They do play a similarly amazing style of jangly pop which is pretty much my favourite thing, especially with Kaye Woodwards heavnly vocals drifting overtop. They finally put out an album this year called Bounce Around. It's wonderful.
(Words by Paul Kean)


"We haven't acquired many new cd's in the last year. We've been so absorbed in Minisnap, Ladybird and Bats recording projects.

I do like Bachelorette, Ladybird's album, Tap Tap, 4 bonjour's parties, Connan and the Mockassins, Mint Chicks, Pete and the Pirates, Sambassedeurs. Jay Clarkson's new one,
Over The Mountain
, sounds great.
I often return to classics like Sparklehorse's
Here come the Painbirds
, Stereolab's
Dots and Loops
and Yo La Tengo's
I Can Hear The Heart Beating As One
. Older albums that get occassional plays include Can, The Smiths, West Coast Pop Art Experimental Band, Neil Young, 3D's, Cure...

We surf around MySpace and find lots of great music we like but often lose track.

Okay, off to watch Flight of The Conchords."


[Rose Quartz is on Xmas vacation until early January. Merry Christmas!]