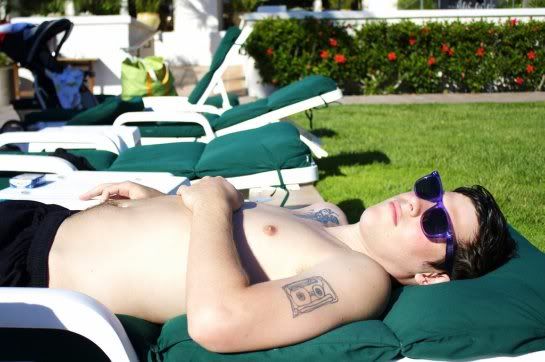 It's hard to believe that these scruffy beach anthems are the work of just one guy from San Diego, Nathan Williams, but they are, and they're thoroughly badass. Taking some cues from fellow Californians No Age but with an even looser pop punk scrawl, his lo-fi is garagey and raw but comes off totally gnarly with its dirty melodies and sunny disposition. His self-titled cassette has been receiving tons of bloggage in all the right places and in 2009, Wavves is set to release a ridiculous amount of new ones. There are seven or so 7"s coming out on various labels like of Fat Possum, Young Turks, Release the Bats, and also on Dean from No Age's label Post Present Medium. Another full length is due on Woodsist soon also, furthering this terrific scuffed up and wild armed/eyed vibe. I had a quick chat with Nathan via email re: all of that stuff.
What is the best trick you can do on yr skateboard?
I'm pretty fucking rusty at this point I haven't had any time lately to get on a skateboard and fuck around. I like doing caveman fingerflips. Those look a lot harder than they so I try and squeeze as many as possible into each session.

With the "beach punk" vibe, did you decide you wanted to make this sort of music before you did recordings, or was it just how it came out? Do you spend much time at the beach?
No, it's just how it came out. Perfect example of yr surroundings just affecting you without even realizing it. Once I had recorded a couple of songs and I thought I had found my 'niche' I became more confidant writing the songs b/c I had a real idea of how I wanted it to sound. Didn't know "beach punk" was what people were going to label it but I don't really care. I'm glad people enjoy the music ya know so whatever.

Making music in California, do you ever think about some wider Californian lineage of pop or general music? Like, you know, Brian Wilson and shit.
Yeah I'm influenced by everything I see do and hear.

What's yr recording set up like?
Everything is broken. Real minimal.
Is there anything in particular that attracts you to the medium of cassettes?
Maybe the same thing that attracts me to music and culture from the 80s and 90s. It's what I was around growing up ya know, so it sticks with you. It's such a different medium..it's so muddy sounding, but it's almost comforting in a way. And then I let some drunk dude tattoo a cassette on my arm at my friends house when I was 16 so that was that.

Are house shows a big thing in San Diego?
Not really. At one point it was. Venues here are pretty few and far between, and most of the time not worth while to play. People in this city seem (for the most part) like they really just don't give a fuck. It's a real love/hate thing for me being here.

There's a lot of hype on various blogs about yr music; how do you feel about that? Do you read many blogs?
Yeah I read stuff. I shouldn't, but I do. It's hard not to, since it got so insane so quickly but I am stoked that so far everyone has been super supportive and cool about it.
What's the main ethos behind the Ghost Ramp label?
Ghost Ramp was just a way to release all my friends music. It ended up being more of a hassle and a burden on relationships so I think ghost ramp will just be a blog from now on. Maybe when everything calms down a bit and I have some down time I will get around to releasing some stuff but for now Ghost Ramp is just me running my mouth about rap and how Billy Corgan turned into a twat.
Did you make the more textural/noise based tracks on the Wavves cassette to slot in between the punkier songs, or were all the songs just created at the same time?
Well the cassette was written and recorded in 9 days, so all of the songs were recorded around the same time. Normally I would sit outside for a second in the sun and then go into the garage and record a faster song in the morning. Take a break and eat and have a drink and a smoke and just hang out for a little bit. Once the sun went down I just migrated towards the more spacey textural noisy electronic stuff and was happy with how they all ran together so I kept doing it.
Was there any particular music that made you think 'okay, I have to make some music now!'?
When I was a kid I saw The Beatles 'A Hard Days Night' movie and it seriously changed my life. To this day I'll still stand by that's one of the more definitive moments in my life probably.
Did you do that drawing on the front of the cassette?
No actually, this girl named Amelia did it. She is in this band PENS in the UK. They are really cool. I'm actually going out there in February and playing a few shows with them.
[
Wavves MySpace
]