*And an R&B record which slayed the competition.
What a year. Keeping up with the never ending influx of hip hop albums is one thing but factor into that every second person with a mic putting out mixtapes and singles and "deluge" is the first word that really comes into mind. However, when something did emerge every so often to give me a reason to bop my head or dance or feel or smile or roll my windows way down and do ungodly damage to my stock car speakers, it was THRILLING. So here are now are the records that for one reason or another, had me indulging in the aforementioned activities: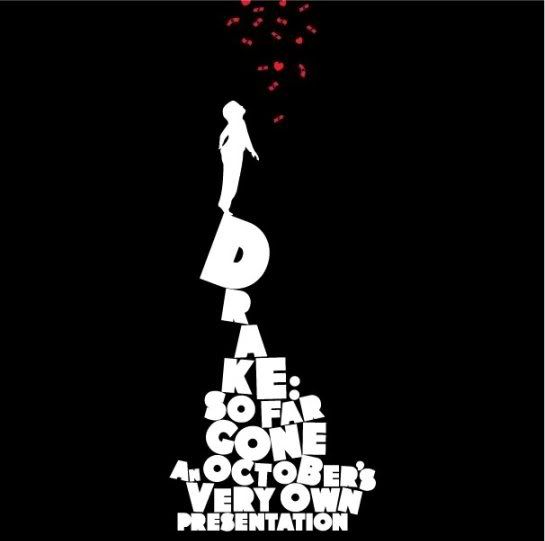 1. Drake - So Far Gone
sample

track:
Bria's Interlude (feat. Omarion)
Ladies and gentlemen, the Valedictorian of the Class of '09.
I've gushed about Drake incessantly on previous posts so I'll keep it to a minimum this time.
So Far Gone
is an ingenious blend of swagger and emotion. To put it simply, it hits me in a completely different way to all the other music in this post and that's why I love it.
[
MySpace
/
get
]
2. The-Dream - Love Vs. Money
sample track:
Fancy
An epic, genre-defining, future-soul symphony of synths and shimmer. Songs crafted from layers of lush sounds, drenched in sex and vibes of velvet and platinum. Absolutely sublime.
[
MySpace
/
buy
]
3. Raekwon - Only Built 4 Cuban Linx...Pt. 2
sample track:
About Me (Feat. Busta Rhymes)
This is epic hip hop. More lyrically on point than ever, Raekwon approaches his rhymes with an uncanny cinematic scope. Lyrics play out like scenes from a classic gangster movie - framed in noir-ish black and white with an ominous atmosphere permeating every frame all while shady characters lurk and crooked dealings take place in every dark alley you pass.
[
MySpace
/
buy
]
4. TiRon - Ketchup
sample tracks:
Throwing My Money
/
Quitter (feat. Tunji & Ayomari)
A collection of superbly crafted songs in which the LA representative waxes poetic on life, girls and being broke. The everyman of hip hop, TiRon is honest to a fault and relatable to on just about every level. He spits with a hushed confidence with witty and clever rhymes, laced with humour, self-deprecation and genuine poignancy.
[
MySpace
]
5. Clipse - Til The Casket Drops
sample track:
Popular Demand (Popeye's) (Feat. Cam'ron)

Next-gen crack-rap. If
Lord Willin'
and
Hell Hath No Fury
were the soundtracks to the grind, this is Clipse reveling in their success via glorious excess. Bolder, brasher and shining brighter than a freshly waxed Murcielago. The

LP 670-4

too.
[
MySpace
/
buy
]
6. Jay-Z - The Blueprint III
sample track:
Venus Vs. Mars
I honestly did not understand why there was so much negativity being hurled towards album. This is Hov, older, wiser but nevertheless still unfuckwithable and having conquered all,
Blueprint III
sees him progressing,
messing with new sounds and textures to create some rather exceptional results.
BP3
is remarkable in it's way of laying down a foundation of what's to come from Hov while at the same time incorporating elements from his past such as the experimentation of
Vol 3: The Life & Times of S. Carter
and collaborative star power of
The Black Album.
So don't get it twisted - NY is still on his shoulders and that crown is firmly affixed.
(Just be sure to delete "Young Forever" from your playlists.)
[
MySpace
/
buy
]
7. Pac Div - Church League Champions
sample track:
We The Champs (Duke Vs. Carolina)
"Pac Div rep LA with a bravado and hunger comparable to the Lakers in the 99-00 season". Modern beats which hark back to hip hop's glory days, West Coast swagger and a group dynamic, so fleeting in today's rap climate, all seeped with an insatiable desire to win make for an exhilarating listen.
[
MySpace
/
get
]


8. Method Man & Redman - Blackout! 2
sample track:
Errbody Scream (Feat. Keith Murray)
A hip hop-stoner-party record? Best believe it. Meth and Red go line for line and trade verse for verse with reckless abandon and with an energy from what seems to be a never ending sugar high. Infectious, raucous and best of all, fun as hell.
[
MySpace
/
MySpace
/
buy
]
9. Wale - Attention Deficit
sample track:
Chillin' (Feat. Lady GaGa)
An absolutely stellar contribution by a card-carrying member of the class of '09. "...With production varied as much as the themes explored throughout the record, it's a glimpse into the head of someone who could just as easily be a pal. Chix and life, hopes and dreams, drugs and anxiety and oh so much more tackled with aplomb..."
[
MySpace
/
buy
]
10. 50 Cent - Before I Self-Destruct
sample track:
Psycho (Feat. Eminem)
Curtis is at his best when he's pissed. Even with all that Vitamin Water money, dude is unrepentant in is desire to shoot and rob you. I kinda like that sorta dedication. This is without a doubt his best since
Get Rich Or Die Tryin'.
[
MySpace
/
buy
]
and five more for cuz I just can't help myself...
11. UGK - UGK 4 Life
sample track:
Everybody Wanna Ball
The last chapter of the UGK legacy. A blunted haze of Texas life, rims and excess, sex and style - the soundtrack of the south. RIP Pimp C.
[
MySpace
/
buy
]
12.
Mos Def - The Ecstatic
sample track:
History (feat. Talib Kweli)
A revitalised Mos Def re-stakes his claim as one of the premier emcees in the game. Stellar production and an ever-so-hungry vibe lurking just below the surface means the mood is ecstatic.
[
MySpace
/
buy
]

13. The Cool Kids - Gone Fishing
sample track:
Summer Vacations
"It's all in the name. These dudes are cool as shit. Beats and rhymes that recall summer, ice cream, pretty girls with scrunchies and some of the best moments of my 90s upbringing - think the NBA and crushing on Alex Mack. Okay, technically they're about bringing back that 80s gold chain and Cazal shades vibe but it makes me feel good all the same." SYRUPY FLOWS.
[
MySpace
/
get
]
14. Add-2 - Tale Of Two's City Volume 3: The Rise & Fall
sample track:
Let You Go
"Immaculate Chi-town flavours...Tracks brimming with honesty and soul, it's as if he's concocted a style by observing some of Chicago's luminaries and channeling them - Kanye's braggadocio, Lupe's youthful outlook, Common's emotional maturity seem to be at play as he relates to us his own personal trials and tribulations."
[
MySpace
/
get
]
15. Antipop Consortium - Fluorescent Black
sample track:

Timpani

"Antipop Consortium have always pushed the boundaries of what I believed or expected hip hop could sound like. Incorporating abstract, stream-of-consciousness and sometimes nonsensical lyrics over beats which can vary from dense, multi-layered electronic compositions through to kraut-influenced minimalism, they've concocted the soundtrack to the future."

[MySpace / buy]