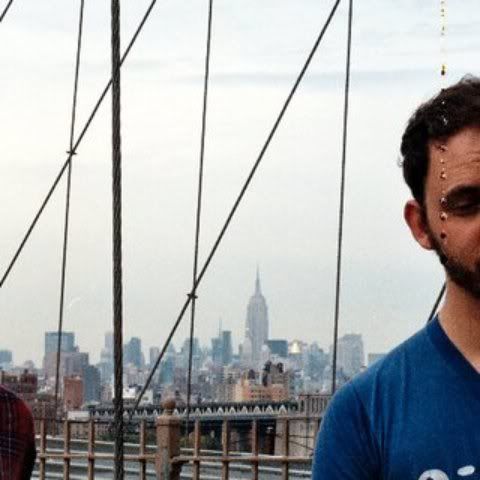 2010: it was pretty great! I saw Inception like three times and listened to all the best music I've ever heard. Plus, Rose Quartz went to New York (SEE ABOVE) and hung out with all our new best friends. We also got to witness some of our favourite labels and bands just kill it this year: Olde English Spelling Bee, R.I.P. Society and Chapter put out a billion great records which everyone loved and bands like Street Chant, Big Troubles and way too many others did massive stadium tours of Brazil. Holla! Anyway, here's my top 10 songs of this year:
10. Wild Nothing - Live In Dreams
Gemini
out through
Captured Tracks
//
myspace
Love how
relaxing
this whole album is; that's not a popular adjective but it's true about Wild Nothing, all smooth and subdued like it's been lifted from the saddest '80s teen movie of all time.
9. Air Waves - Knock Out
Dungeon Dots
out through
Underwater Peoples
//
myspace
I'm a total sucker for this kind of sweetly shambolic alt-country w/ '70s Cali pop sensibility (clean bass, jangly guitars etc).
8. Royal Headache - Splash
7" out through
R.I.P. Society
//
myspace
Frenetic, fuzzed-out pop-punk thrashers like this are what Royal Headache do best; just total odes to shit like swimming pools that feel kinda profound cos you get bamboozled by all the hooks and then you're like wha?
7. Danger Beach - Apache
Milky Way
out through
Dream Damage
//
myspace
Real "tender" instrumental surf-pop from inland Australia: maybe that's why the rolling guitars sound melancholic and the reverb'd out, faraway drums are ever so slightly askew.
6. Straight Arrows - Bad Temper
It's Happening
out through
Rice Is Nice
//
myspace
After literally years of teasing us with sporadic 7" releases, these power popsters finally dropped a (terrific) full-length record. This is my favourite from it: lo-fi but technicolour with vocal harmonies I still can't figure out after dozens of listens.
5. Deerhunter - Helicopter
Halcyon Digest
out through
4AD
//
myspace
Maybe you didn't know, but Deerhunter put out another album this year!
4. Surf City - Crazy Rulers Of The World
Kudos
out through
Popfrenzy
/
Fire
//
myspace
Warm, fuzzy, completely enjoyable "surfgaze" beamed to you directly from the teenage summer you discovered Daydream Nation.
3. Hammocks and Honey - Undone
Spellbinder
out through
Special Award
//
myspace
Find of the year, for sure: this jam from Melbourne's Hammocks and Honey is beautifully, wistfully hypnotic; months after I first heard it I still can't stop listening to it.
2. Nobunny - Live It Up
First Blood
out through
Goner
//
myspace
I listened to this song
exclusively
for about two weeks after I first got this album, which might be because it sounds like the Ramones covering the Cars but whatever. It's totally jaunty, totally catchy, with a philosophy you can live by; winner, right?
1. Outer Limits Recordings - $20 Dollar Bill
7" out through
Olde English Spelling Bee
//
youtube
This total 2010 h-pop classic sounds like it was recorded to a tape that had been recorded to
way
too many times before, but that can't hide how goofy/hilarious/catchy it is. It's a sound that's been mined before, for sure, but never as consistently well as Sam Mehran and his various projects mine it: the run of singles from Outer Limits Recordings and The Sweethearts in 2010 has been absurdly high in quality. If this was recorded in pristine hi-fidelity it'd probably be a hit; too bad, pop fans.
OTHER FAVES:
The Sweethearts - Burning Through The Nite
Big Troubles - Bite Yr Tongue
MGMT - Flash Delirium
Ducktails - Hamilton Road
Street Chant - Yr Philosophy
Boomgates - Bright Idea
Matthew Dear - Slowdance