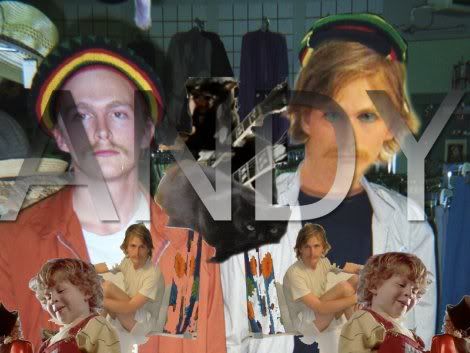 MP3:
Tonstartssbandht - Time Pigs Radio Mix
(195mb) / mediafire
Not really sure where to start on this one but such is the weird world of (total) bros Andy and Edwin White who always seem to shred in the weirdest ways (like,
actually!
); this is a radio show come RQ mix by Ferris Bueller aka Marty McFly aka Andy White that was aired last week on
CKUT 90.3 FM Montreal Sessions
and is basically made up of either music by Andy, screwed by Andy, remixed by Andy, or a few tracks by Edwin (made specially the night before the show) and the last track is by their Dad from 1984," a synth jam taken from
some video
. It's aerial shots from a prop plane over Orlando in the mid 80s. His friend Greg Sikora gave him a ride, and he added the improv soundtrack later. Greg died in a plane crash a few years later, so we dedicated the song to him". There's also all these weird radio adverts strewn through too. The whole thing is positively demented and real sludgey; the darkest corners of the airwaves.
TRACKLIST
1. Profanity Proclaimer - Jason Harvey / Andy White
2. Last Week's Episode - Andy White
3. CKUT Cochise Call Signal - Andy White
4. Slowchise - (Audioslave) A. White
5. Chet Fux introduction
6. Alone Again - (Gilbert O'Sullivan) Chet Fux
7. Bittersweet Symphony - (The Verve / Andrew Loog Oldham / Rolling Stones) Chet Fux
8. Superstar - (Delaney & Bonnie / The Carpenters) Chet Fux
9. Freebird - (lynyrd skynyrd) Chet Fux
10. Chet Fux Outroduction
11. Wedges © Advertisement - Eola
12. Wedges © Jingle - Eola
13. Wikipedia © Advertisement - Eola
14. Loch Lomond - Eola-American Men's Chorus
15. Old Man (loop) - (N. Young) A. White
16. Profaine Cochise Reprise - A. White, J. Harvey, E. M. White
17. How Many More Times (slow loop) - (Led Zep) A. White
18. Nothin Compares 2 U (slow loop) - (Vienna Boys Choir) A. White
19. The Bomber (slow loop) - (James Gang) A. White
20. How To Clean A Gun - A. White
21. I Just Wanna Know Where The Gold At - Leprechaun remix
22. For Slow One - Andy White (The Beatles)
23. Ruby, Don't Take Your Love To Town - (Kenny Rogers) A. White
24. Fake Sake - Alternate 1985
25. Cracked Skullo - Piggo Charles
26. Za Labalaba (scared stupid mix) - (Hugh Masekela) A. White
27. Guitar Lady - Andy Summers
28. Oprah Pees For A Few Minutes
29. Weak Young Moon - Piggo Charles
30. God Bless Greg Sikora - Edwin G. White
GUIDE TO NAMES

Chet Fux = Andy White
Alternate 1985 = Andy White
Piggo Charles = Andy White
Andy Summers = Andy White
Eola = Edwin White
Edwin G. White = The Father