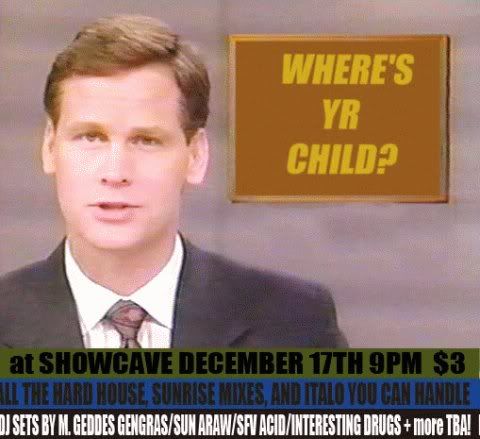 MP3:
Where's Yr Child Megamix
(144mb)
Wish we were still in Los Angeles so we could go to this! Jam on this mix even if yr not there for this new night from Sun Araw and M. Geddes Gengras
DECEMBER 17th, WHERE'S YOUR CHILD?
@ SHOWCAVE
From the minds of M. Geddes Gengras and Sun Araw comes
ALL THE HARD HOUSE, SUNRISE MIXES, AND ITALO YOU CAN HANDLE
SET FROM SFV ACID!!!
DJ SETS BY M. GEDDES GENGRAS
SUN ARAW
INTERESTING DRUGS
COME SWEAT: TAKE THIS BASS, FILTER, AND CELEBRATE
TRACKLIST:
M. GEDDES GENGRAS:

HOUSE MASTER BOYZ & THE RUDE BOY OF HOUSE – HOUSENATION
IAMTHATIAM – AND ON THE 3RD DAY
AZTEC MYSTIC – REVENGE OF THE JAGUAR (MAD MIKE MIX)
FRANKIE KNUCKLES FEAT. JAMIE PRINCIPLE – BABY WANTS TO RIDE (X-RATED VERSION)
STEVE POINDEXTER – BODY HEAT 1991 (PERSON∆BLE DRTY FLTRZ MIX)

SUN ARAW: