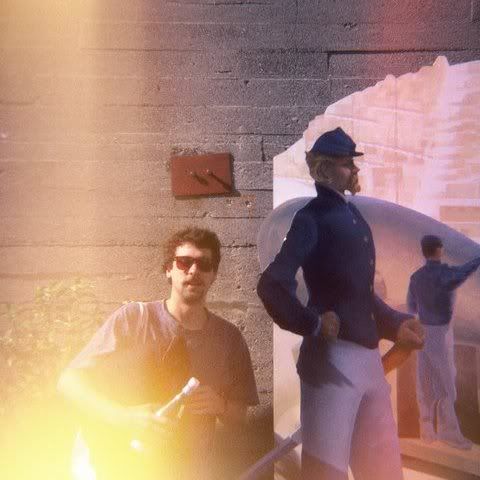 I tell ya, this year's just ZOOMED past! A combination of extreme hours at my (old) job, putting on shows in Newcastle, BLOGGING, ultra overseas vacationing and a high-level membership in "chillers delite" meant my attention span has shriveled even further into nothingness. L
ife is tough but
HONESTLY I get kinda worried about that and not listening to things closely enough etc and the way things are going and shit but it doesn't change the fact that there was a heap of "killer jams" out this year! Also just realized how horrendously OESB-heavy this list is but oh well. Boo ya:
10.
Wild Nothing - Bored Games
Gemini out through Captured Tracks // myspace

Fav train song for sure. Straight up 80s moper pop bliss.
Someone tweeted about these guys (OPN or Megazord or someone?) describing them as "total game changers" and that's so right on; crystal clear funk/pop w/ actually ridiculous slap bass talent and generally amazing technical prowess.
8. The Samps - F.X.N.C
The Samps EP out through Mexican Summer // myspace
Hard to pinpoint an exact best Samps track (the Windows 69' Edition (On TV) mix is where it's at) but this one probably taps the best into the weirdly sleazy and retroactive house glory their impatient and energetic electronica is characterized by.
7. Ducktails - Paisley Pattern Arcade Shift
Ducktails/Strangers Bored Fortress split 7" out through Not Not Fun // myspace
Love these slightly more fuzzy Bored Fortress cuts of Arcade Dynamics jams "In The Swing" and "Arcade Shift" (perhaps not as much as "Hamilton Road"'s balladry but (spoiler) I think Shea has that on his list) because they're still the homeliest/most picket-fency pop around.
6. Games - Midi Drift
Games That We Can Play 12" out through Hippos in Tanks // myspace
Spencer Clark's signature jungle jams really hit their stride on this one; not sure whose guesting on this jam (Dolphins Into The Future? James Ferraro?) but it's as mesmeric as it gets.
ANV's images of soldiers are "cries for our shared humanity" and soul/Top 40 R&B infused pop like this soundtracks the weird truths of modern mainstream culture/life as much as ultra icy and (failed) futuristic landscapes. Real catchy and "soul"ful for sure.
2. Sun Araw - Deep Cover
On Patrol out through Not Not Fun // myspace
Total anthem; this "amniotic dub" just rolls and rolls, wrapped up in hefty histrionics and just drenched in smoke.
1. The Sweethearts - Burning Through The Nite
I Need My TV 7" out through Olde English Spelling Bee // Burnin 7" on Transparent (UK) // vimeo

I keep trying to work out if this'd sound better in more clearly definied hi-fi but even with the signature mutated tape gunk all over it there's no hiding the "pop perfection" inside this gem, Sam Merhan and Zak Mering dialing in 1-900 romance to the car phone on their super distinct night drive.
OTHER FAVS:
Squadda B feat. Young Boi - Legendary
Oneohtrix Point Never - Ouroboros
Deerhunter - Helicopters
Panda Bear - Slow Motion
Destroyer - Chinatown
Raw Thrills - Skyline's Lookin Fine